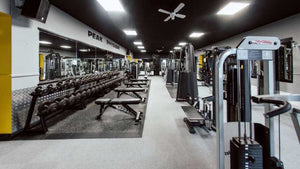 PEAK No.1 Re-launch 25-7-2020
Whether you're just starting your fitness journey or an elite athlete looking for that extra edge we provide you with everything you need to achieve your goals, from the best quality equipment to a positive, friendly atmosphere.
The main gym floor boasts a spacious cardio area with treadmills to ski ergs and everything in between allowing you to mix things up and turn the 'same old cardio' into something a bit more new and fun.
Our ladies only gym room has just been completely revamped and now boasts a brand new selection of free weights and resistance training machines, perfect for toning up away from the crowds.
At the forefront is our large resistance training area sporting a full selection of dumbbells, competition standard benchpress racks, and a selection of top quality machines that would get the nod of approval from even the most serious trainer.
Downstairs, running the full length of the main gym area, we have the 'PowerPit', so called for our unparalleled range of strength and conditioning equipment. A host of Strongman kit, top of the range power racks. and bumper plates ensures that any future Olympic champions or World's Strongest Men/Women will be well at home here.
If it's more fitness that you're looking for then with our unbelievable variety of functional training equipment you'll never find cardio boring again!
Or maybe you want to let off some steam and get fighting fit in which case why not go a few rounds on the heavy bags or build up your coordination on the speed bag. Whatever your goals we have you covered here at Peak Physique.
---